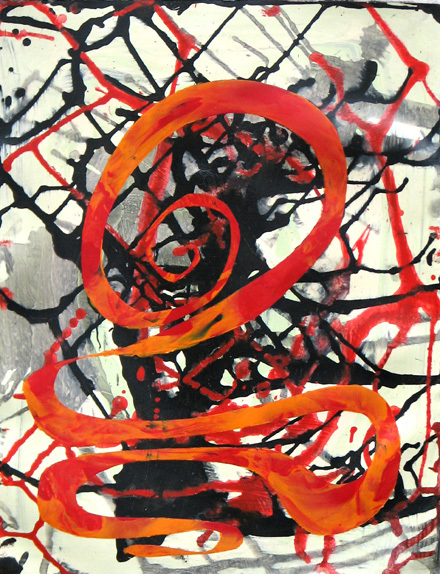 Spiral , Cast Acrylic Monotype by Donna Orme
Monoprints, Etchings, Collages & New Cast Acrylic Monotypes by Santa Clara Artist and Printmaker Donna Orme
October 26-December 13, 2007, reception 10/26/07, 7-9 p.m.
Pacific Grove Art Center
568 Lighthouse Ave., Pacific Grove, CA 93950
(831) 375-2208
Gallery Hours: Wed.-Sat. 12-5 p.m., Sun. 1-4 p.m.

Donna Orme's world revolves around creating mixed media and printmaking artwork--monotypes, monoprints and etchings. She works from deep, yet-to-be defined thoughts and feelings, allowing them to express themselves in the colors and forms which emerge through her art. For the cast acrylic monotype she applies pigment directly to multiple polyethylene plates. Oil-based monoprints, monotypes and etchings are produced on aluminum plates submerged in a solution of copper sulfate. The cast acrylic monotype layers of paint can e viewed from the back side of the plate to see the development of the image. Ms. Orme visualizes what will show as the first layer versus the additional layers when the monotype is pulled from the plate. The oil-based monoprints, monotypes and etchings are pulled from the aluminum plate in reverse. Her art is contemporary in feeing, playful, with a sense of rhythm and energy. Donna Orme has received the Sanford North American Materials Award from the National Collage Society, Inc. and numerous other awards.