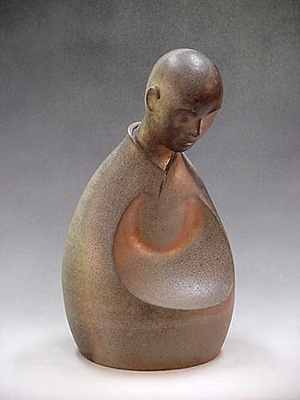 above sculpture by Harry Nakamoto
The ceramics exhibit, WOOD FIRE CONNECTIONS, opens September 7, 2007 at the Artobject Gallery, 592 N 5th Street, San Jose, California.
The exhibit features the wood-fired work of six potters from Oregon and California: Hiroshi Ogawa, Harry Nakamoto, Samuel Hoffman, Diane Levinson, Jennifer Long Klein, and Tim Steele.
There will be an opening night reception as a part of San Jose's First Friday Gallery Walk on September 7th from 7 PM to 9 PM. All the artists will be present to discuss and answer questions about their work.
Pottery has been fired with wood since its beginnings. Japan has one of the longest and most well known traditions of wood fired pottery and that tradition strongly influences the work in this show. The use of a wood fire to achieve unique surface effects from the flame and ash deposits on the pots is a hallmark of the Japanese tradition. The potters in this show are using those same effects applied to work in a variety of styles ranging from the sculptural to the strictly functional. Each person's work is unique while all show the results of the wood-fire process. The pieces in this show are each artist's attempt to capture those effects and use them to enhance and beautify their forms.
All of the work in this show has been fired in a Japanese style kiln, an anagama One of the connections these potters share is that all have fired at Hiroshi Ogawa's anagama, named Hikarigama (The Illuminated Kiln) in Elkton, Oregon. Much of the work in this show was fired there. This kiln is fired for approximately 100 hours. During this time, upwards of 8 cords of wood are burned. It is a cooperative process involving 8 or 9 potters working in two 12-hour shifts for each firing. In addition to the effects achieved, the communal aspect of the process is a very important reason for the participation of all these potters.
The exhibit will run through October 6, 2007 and will be a part of the First Friday Gallery Walk on October 6th as well. The gallery hours are Thursday through Saturday, 11 AM to 4 PM, other times by appointment. Call 408-288-9305.