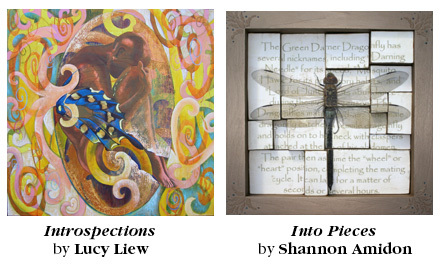 Please join us First Friday September 7th at KALEID gallery for two new featured artists exhibitions by Shannon Amidon and Lucy Liew.
Introspections is a series of acrylic on canvas artworks by Lucy Liew that were inspired by a series of personal events that led to her introspection into both the past and present when faced with life's challenges and emerging as a stronger and more complete person.
Into Pieces is a mixed media series of insect portrait puzzles by Shannon Amidon, an exploration into the world of insects and what it means to relate aesthetically with these terrestrial creatures that both inspire and repel us.
Also on view are 70 San Jose artists showcasing their fine art and sculpture, limited editions and unique gift items.
Friday, Sept 7th, 7pm - 9pm, free and open to the public
Live music by Astronout performing live downtempo and minimal techno.
KALEID gallery
88 South Fourth Street (at San Fernando)
Downtown San Jose