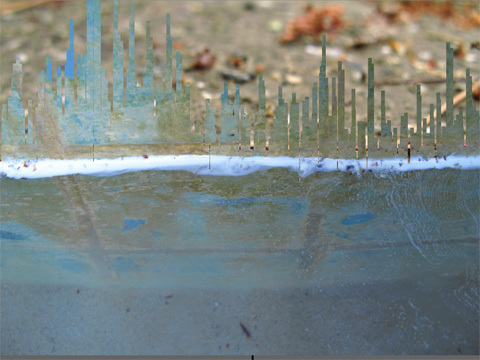 Sheau Lee and Ethan Miller, Surface, video projection still, 2007
We received two very nice notes today from Michelle Waters and Sheau Lee that each will be in the forth coming MACLA's Gente, Casas y Barrios exhibit as a result of a call for entries by MACLA that we relayed to our artist list.
The exhibit, whose theme is People, Houses & Neighborhoods, will include a collaborative project by Sheau Lee & Ethan Miller called Surface (above image) which is an interactive audio/video installation using a table with a contact microphone, a series of macro photos of urban surfaces in downtown San Jose. The location of each surface is cataloged with latitude and longitude data. Organic materials are also collected from the urban environment (rocks, seed pods, branches, etc.) and form an interface into the exploration of place and surface.
Michelle Waters' painting is entitled the Undevelopment Agency and is a satirical piece addressing the environmental consequences of rampant development.
Gente, Casas y Barrios opens this Friday, June 29th with an artists' reception at 6pm with the exhibit on view through July 14th.
MACLA is located at 510 South First Street, downtown San Jose