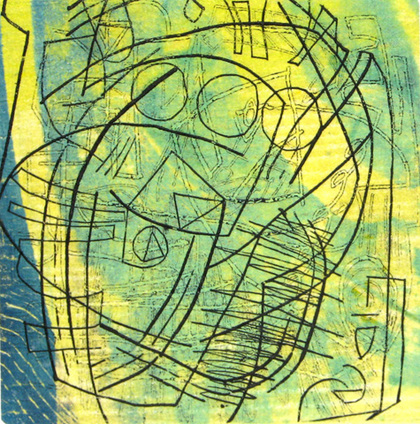 Donna Orme - Featuring 5" x 5" Monoprints with Chine Colle
Experimental artist, Donna Orme presents 5" x 5" monoprints produced from aluminum plates that have been submerged in a copper sulfate solution. The copper sulfate bites into unprotected parts of the plates and produces the tonal values and thick/thin lines.
Ms. Orme adds color, rhythm, texture and mood to these monoprints by the use of chine colle. Some etchings are run on Asian papers. The Asian papers are incorporated with the inked aluminum plates in a technique known as chine colle (Chinese collage) to produce soft, collage effects.
Possibilities Art Studio & Gallery
311-A Forest Avenue
Pacific Grove, CA 93950
831.643.9392
August 10-September 29, 2007
For more information visit _www.donnaorme.com
Ms. Orme produces designs and symbols using circles, ovals, arcs, triangles,
squares and rectangles that give her work a contemporary feeling. Vibrant
colors unexpectedly break up space in some compositions. Eye-catching images
have a sense of movement and spontaneity making them playful, lively,
energetic and appealing. The artwork is allowed to happen without a lot of
conceptual forethought. Making art is one of the most self-fulfilling journeys of
her life. The finished work is a spontaneous expression of experience and
emotion that Ms. Orme wants to share with others. Ms. Orme has won many
national, state and local awards.