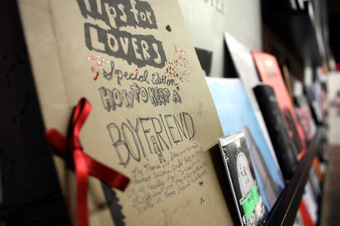 Art of Zines 2010 at Anno Domini //the second coming of Art & Design

CALL FOR ZINES: This is a call to all zine makers to have their zine shown in our 2011 ART OF ZINES exhibition at Anno Domini gallery. For over a decade A.D. has supported and promoted urban contemporary arts, performance & music and we believe zines have an important place in our efforts. Zines are one of the last frontiers for freedom of speech and creative self expression and we need it now more than ever.
We are especially interested in art, music, poetry, photography and other creative disciplines but are open to all zines in any format and content. Current and past issues (within a year) are accepted, one copy of each is adequate. (If you choose, you may send zine multiples and/or promo cards and we'll put it out on the free counter for the taking.)
To make the exhibit a little sweeter, this year's zine show will be coordinated with the SubZERO Festival in our district which draws 10,000 - 12,000 people that enjoy the subculture artists, performers and musicians in our region. The festival takes place out front of our gallery doors in a three block area called the SoFA District. It's also the First Friday art walk with 20 venues participating. The exhibit indoors at A.D. will run for approximately 4 weeks.
Please note we do not return zines, nor will we sell them (they are just for exhibit and enjoyment purposes), but we do induct them into our zine library so they may live on.
We'd like to have all the zines for the A.D. exhibit in hand by May 21, 2011. Please email me to let me know you'll be sending us your zine, and feel free to contact us should you have additional questions. You are welcome to extend this call to other friends or forums you think will be a good fit.
The exhibition opening reception is on First Friday June 3rd, 7-11pm.
http://www.galleryAD.com

CALL FOR ZINE MAKERS: zine makers in the area are invited to be present to table / sell their zines within the SubZERO Festival (Friday, June 3rd, 6pm-midnight). Vendor fees for SubZERO is $125.00 but for zine makers that want to be a part of the communal zine dedicated area, it will only be $35 a spot, no other commission imposed. (A "spot" will be 1 standard table length.) You'll have to bring your own table/chair, we'll provide the space and electricity for lights for the evening.
Please RESERVE your spot by May1st by replying to rEvolution[at]galleryAD.com if you'd like to table.
http://www.SubZEROfestival.com (last year's site - updates coming soon but it'll give you an idea.)
SEND ZINES TO:
Anno Domini // the second coming of Art & Design
Attn: Art of Zines
366 South First Street
San Jose, CA 95113
www.galleryAD.com
phone: 408.271.5155