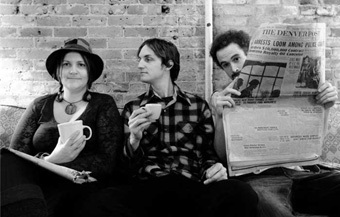 Anno Domini presents an evening of live music with Chimney Choir (Denver, CO) + MAD NOISE (Oakland) + Dream House (San Jose)
Chimney Choir embraces psychedelic synths, performance art, and found percussion (including a Sampsonite suitcase, ladder, and a typewriter). The trio is a true collaboration - members change instruments, blend their voices in harmony, and share lead vocal and songwriting. The critically acclaimed (feather) EP was recorded in an architectural antique warehouse, which gives a hint at the unique character of their sound.
MAD NOISE has only been together for 20 months but the ever-expanding ensemble has been recognized in Bay Area press as the Best Local Band (Bay Guardian & Daily Cal 2011), Best Hyperliterate Busking Outfit (SF Weekly 2011) and took grand prize at Ex'pression College's Battle of the Bands in June 2011.
Dream House has been exploring a live soundscape that includes airy guitars, beautifully haunting vocals, ethereal violin, and swelling percussion. The list of characters in the band is always changing, and live sets can include additional vocalists, cahon, and harmonium. Dream house is currently working on recording their first album in a bedroom and is planning a summer tour in June through the southwest.

Facebook event page: here.

Date: Thursday, April 12, 2012
Doors: 8pm, Performance: 8:30pm
Admission: $5. / All ages
Anno Domini
366 S. 1st St
San Jose, CA 95113
www.galleryAD.com